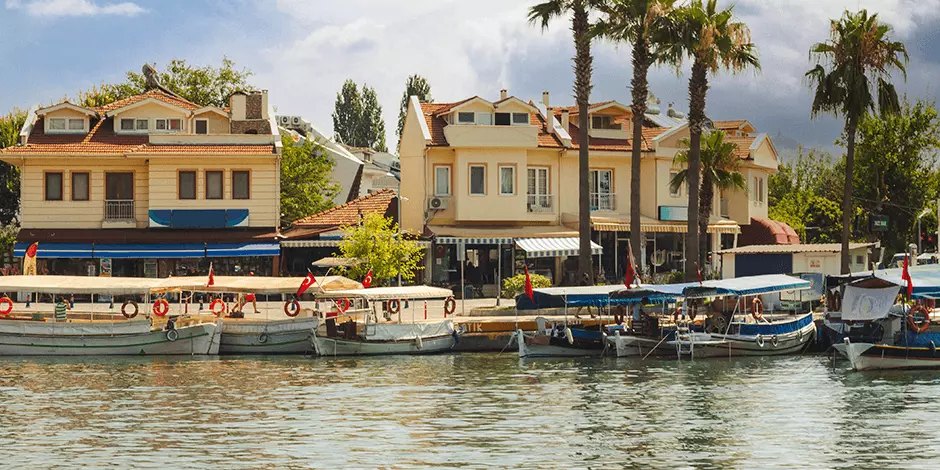 A Unique Land: Dalyan
Do you want to open the doors of a perfect holiday in Dalyan, which has unique geography and magnificent natural beauty? We seem to be hearing that the answer is yes. In that case, you can examine in detail this guide we have prepared about Dalyan, which has managed to establish a throne in hearts with its magnificent nature. Now let's examine all the details about Dalyan together.
Dalyan, which is connected to the Ortaca District of Muğla, is almost a peaceful holiday resort. Dalyan, one of the most popular holiday resorts in Turkey with its immaculate sea, historical texture, and magnificent nature, is located on a canal connecting Koycegiz Gönlüü and the Mediterranean Sea. Dalyan, located between Marmaris and Fethiye, is known as an oxygen tank with its lush forests.


In Dalyan, where 5 thousand people live in winter, the population increases to 3 times in the hundred months. However, you can continue to maintain your cool. Although it is known in the Aegean region, Dalyan is located in the Mediterranean region. Besides, Dalyan is also extremely sheltered from the wind, as it is surrounded by mountains.
Dalyan is one of the most famous resorts in Turkey; it is located close to Marmaris, Gocek, and Fethiye. Dalyan, which also manages to maintain its calm in this direction, is a rare holiday resort with a peaceful air. You can also relieve the fatigue of the year at Iztuzu Beach by devoting at least 2 days to Dalyan for a magnificent holiday.


Iztuzu Beach, which is one of the most magnificent beaches of Dalyan, is a 4.5 km Long Beach. Iztuzu Beach, which is among the rare beaches where both fresh water and saltwater are available, is also known as Turtle Beach because it is a place where Caretta caretta lays eggs. You can choose Iztuzu Beach to spend a holiday intertwined with nature.


Sulungur Lake has located 5 km from Dalyan. This lake, which comes across Iztuzu Beach by road, is 2 km long, 1.5 km wide, and 10 meters deep. The lake, which has reeds and lush trees around it, shines like pearls among the mountains.


Kaunos Ruins and Ancient City
The ancient city of Kaunos, located within the borders of the Koycegiz district, is one of the most important port cities in antiquity. The ancient city of Kaunos was known as Kbid until the 4th century BC and was also called Kaunos. The biggest feature of the ruins is that they have rock tombs. Rock tombs were built in the 4th century BC and were also used in the Roman period.


Dalyan you can get a great benefit by taking a mud bath. Dalyan mud bath, which reaches Koycegiz Lake to the Mediterranean Sea and connects it with Dalyan Strait, has no scientifically proven benefits. It is believed that wrinkles on the body are removed because the natural mud is stretched if you apply it to your body.


Ekincik Bay is one of the most beautiful bays of Dalyan with its magnificent nature and Legendary appearance. Ekincik Bay, which can be reached from both land and sea, is known as one of the most important stops of the Blue journey.


When Do You Get To Dalyan?
In Dalaman, where the temperate climate prevails, the summer months are hot and dry, while the winter months are warm and rainy. It is known that the average annual temperature in Dalyan, which is sunny most of the year, is 18 degrees. With an average temperature of 27 degrees, July is the hottest month of the year. In this direction, the region can be visited in 4 seasons of the year.


It is possible to reach Dalyan by air and land, where transportation is extremely easy. You can also reach Dalyan in a short time with a journey that will take 11 hours from Ankara, 3 hours from Izmir, and 10 hours from Istanbul. You can also reach Dalyan with the Dalyan car rental service.

By using Dalyan car rental services, you can find places to visit in Dalyan much easier and enjoy the Mediterranean Sea.

You can contact us for detailed information about the Dalyan Car Rental