Izmir Adnan Menderes Airport Car Rental
All details about renting a car in İzmir, the beloved city of Aegean, are in this article.

A passenger car or an SUV for terrain? Which fuel type? Automatic shift or manual? All the details are here. All details about renting a car in İzmir are here.
Everything About Renting a Car in Izmir
Izmir Adnan Menderes Airport is an international airport that welcomes millions of passengers every year. It is within the borders of Gaziemir district, that is located in 14 kilometers south of the city center, and is the 5th busiest airport in Turkey.

İzmir is one of the distinguished cities of Turkey with its historical and natural beauties. It also functions like a bridge for transportation routes to other places.

Holiday or business travel, regardless of your purpose of visit is, traveling to Izmir by renting a car will save you time and provide you with a more comfortable travel.

After you landed at Adnan Menderes Airport, you can get in your car that you booked previously in Izmir Airport Branch. You are now ready to explore this special city. First of all, we recommend that you make your car rental reservation at least 1 week in advance for İzmir, a city with high traffic density. This precaution will prevent the stress. Once you get off the place, your only concern will be the arrival time to your destination.

You can rent the most comfortable middle or upper class passenger car from Izmir airport at the cheapest price.

Information you should keep in mind: Izmir Adnan Menderes Airport is15 kilometers from Konak, 30 kilometers from Bornova, 45 kilometers from Urla, 85 kilometers from Çeşme, 60 kilometers from Seferihisar, 60 kilometers from Manisa, 70 kilometers from Kuşadası.
Where to go in Izmir?
Izmir is a city that fascinates you with its beautiful beaches such as Foça, Urla, Çeşme and Seferihisar, with its 8500 years of history and modern identity. There are many things to do in İzmir, a very special city of Turkey, which is visited by millions of people in every season of the year. We have listed the places that you should not skip even if you are on a business trip.

If you have a short time in Izmir, be sure to see the Clock Tower in Konak Square in the city. Kemeraltı Bazaar in Konak is also a historical place decorated with historical touches. If you want to relax, have a coffee and breathe, you can take a break in Kızlarağası Inn close to Kemeraltı Bazaar. If you want to see Izmir in a panoramic view and take a break while watching the view, we recommend you to go to the historical elevator on Mithat Pasha street. To visit Dario Moreno street near the elevator will double the pleasure your visit.

By renting a car in İzmir, you can spare more time for the places and if you are visiting the city in spring or summer, you can visit many places on the coastline. Seferihisar having peace and tranquility as a quiet city, Foca with its clean sea and cobblestone pavements, Çeşme that offers both calmness and dynamism are among your option.


What to Eat in Izmir?
When it comes to İzmir, local herbs and herb dishes, which are among the Aegean flavors, are essential. Various herbs such as mallow, mustard, radica, nettle are introduced every year in festivals such as Urla and Alaçatı. Cretan appetizers and dishes are also crucial. In İzmir, boyoz is consumed for both breakfast and as a snack. Pergamon tulum cheese, söğüş, skewer dishes, stuffed mussels, kumru and atom, each stand out as distinctive flavors.
FAQ about car rental in Izmir
Which types of vehicles are preferred in İzmir?
Middle and upper segment vehicles are preferred in İzmir.
What are the average car rental prices in Izmir?
Car rental prices in İzmir are 170 TL on average.
How far is it from Izmir Adnan Menderes Airport city center?
Izmir Adnan Menderes Airport is 15 kilometers from the city center (Konak).
What is the average price of economic vehicle in Izmir?
The average price of economic vehicles in İzmir is 155 TL.
How far is it from İzmir Adnan Menderes Airport Çeşme?
Izmir Adnan Menderes Airport is 85 kilometers from Çeşme.
İzmir Adnan Menderes Airport Rental Cars
The latest model and well-maintained rental vehicles with insurance coverage are with you at the Adnan Menderes Airport location with the assurance of www.oscarrentacar.com. www.oscarrentacar.com is the indispensable address for Adnan Menderes Airport car rental services.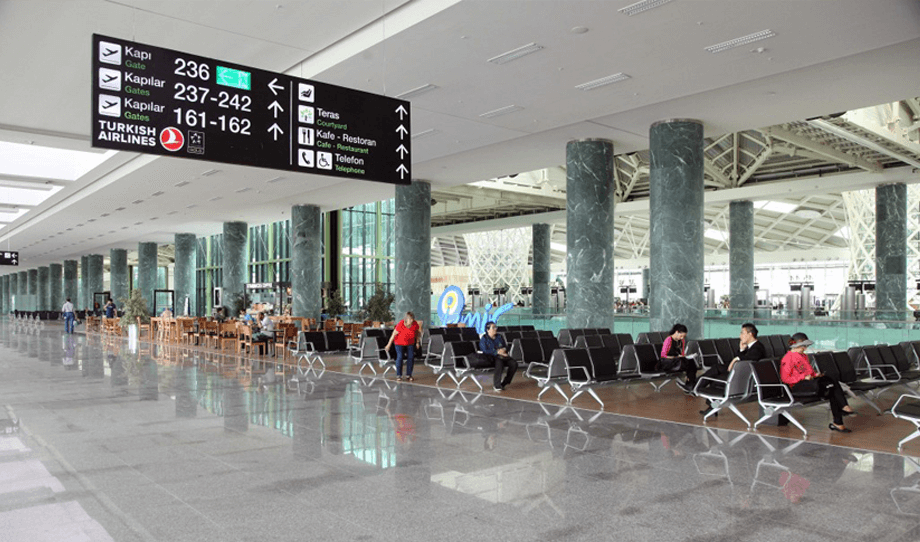 İzmir Adnan Menderes Airport
Izmir Adnan Menderes Airport Car Rental