Göcek Car Rental
Standing out with yacht tourism, Göcek is undoubtedly one of the most special districts of the southern Aegean. Thanks to visitors who have visited this extraordinary bay by boat for many years, the most striking thing in Göcek is 3 different marinas, a foamy sea and unique bays. Let's take a look at what to eat, which bays to go in Göcek and how you can rent a car to go to places.
Everything About Renting a Car in Göcek
Let's say you have landed at Muğla Dalaman Airport and rented a car from our large fleet. You are on your way to Göcek and after about 20 kilometers you are at the blue sea. Here are some details you will want to know when researching car rental options in Göcek: Göcek is 30 kilometers from Fethiye, 100 kilometers from Marmaris, 150 kilometers from Kaş and 230 kilometers from Antalya.

You can easily go to all these points with the most suitable equipment and price.

Renting a car, contains more comprehensive questions than which type of vehicle and what type of gear you will drive. Let's assume you will rent a vehicle that has an automatic gear. So how many people are with you? If you are crowded and have lots of luggage, the space in the vehicle you rent will also be a determining factor. Supposing that you have also determined vehicles that suits your luggage volume and the number of people. Are you going to your destination with a passenger car, a convertible that doubles comfort and enjoyment or an SUV type vehicle? We are here for all your questions about the most equipped vehicles at the cheapest price.

Our company, which has the largest vehicle fleet in the region, offers all opportunities on critical issues such as continuous maintenance of vehicles, determination of the points of deliver according to the customer's choice and online support.

Whether it's a large vehicle for a big family or a vehicle for two people, you will have the opportunity to discover all the new places and natural beauties with the car you rent.
Where to go in Göcek?
When you first arrive in Göcek, you will notice that you are opening the door of a blue world. Some of the places in Göcek are Domuz Island, Tersane Bay, Göcek Island, D-Marin Göcek, İnlice Public Beach.

Where you can swim in Göcek Center is the Blue Point Beach located in D-Marin Göcek. This beautiful beach in the marina stands out with its special sand and yacht races held every year. Since there is no other beach in the center, the closest beach you can go by car is İnlice Public Beach. İnlice Public Beach is only 6 kilometers away from Göcek.

If you want to explore other beaches, Göcek Island is a quiet beach that you can arrive by motor boats departing from the center. Tersane Island, the largest island in the Gulf of Göcek, is also a popular among those who want to take a break by boat.


What to eat in Göcek?
It is possible to come across the touches of Mediterranean cuisine and Asian cuisine in Göcek, where restaurants are frequently located by the sea. Also, there are delicious fish restaurants in Göcek Çarşı.
FAQ about Renting a Car in Göcek
What is the average price of car rental in Göcek?
The average price of car rental in Göcek is 135 TL.
What are the places to visit in Göcek?
The main places to visit in Göcek are Domuz Island, Tersane Bay, Göcek Island, D-Marin Göcek, İnlice Public Beach.
Which beaches can be entered in Göcek?
You can choose Göcek Island, D-Marin Göcek, İnlice Public Beach to swim.
How far is it from Göcek to Dalaman?
It is 17 kilometers from Göcek to Dalaman.
What are the things to do in Göcek?
Yacht tourism is developed in Göcek. Boat tours may be your preferred activity first. You can also visit nearby islands such as Domuz Island and Tersan Island.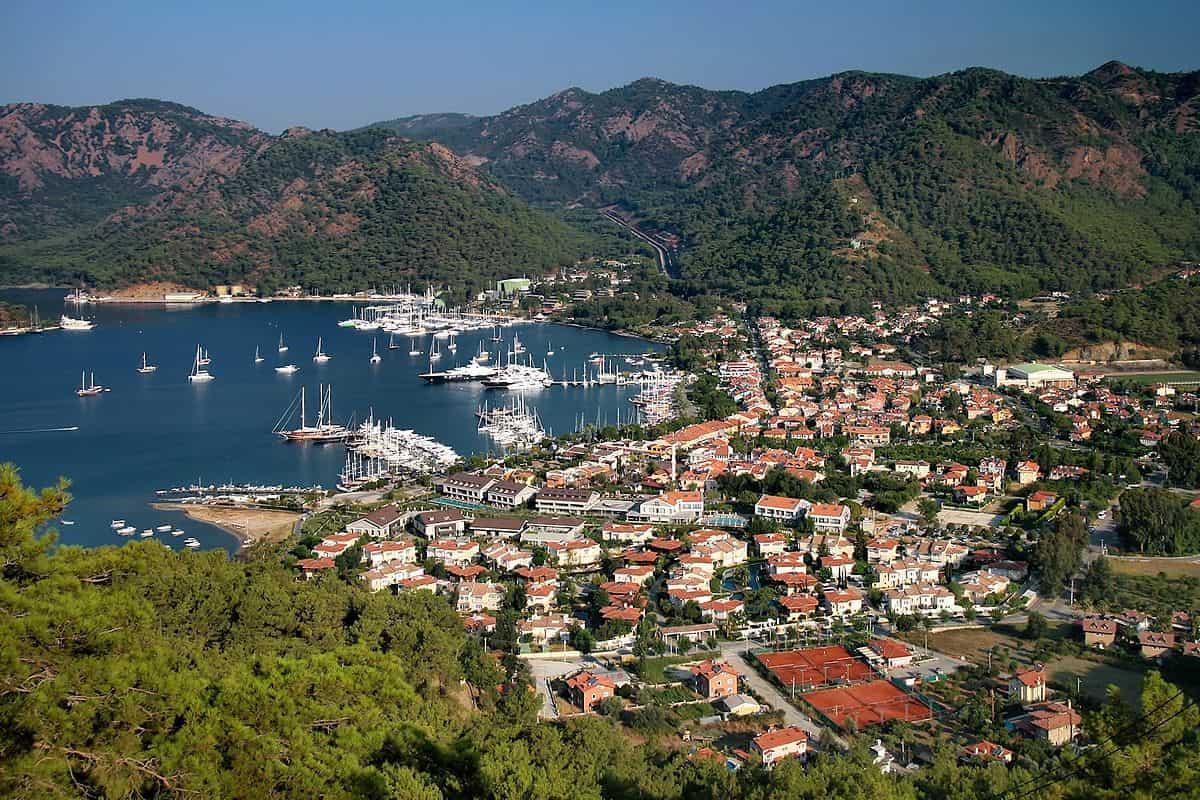 Muğla Göcek
Gocek Car Rental