A Great Experience Over The Clouds: Paragliding In Oludeniz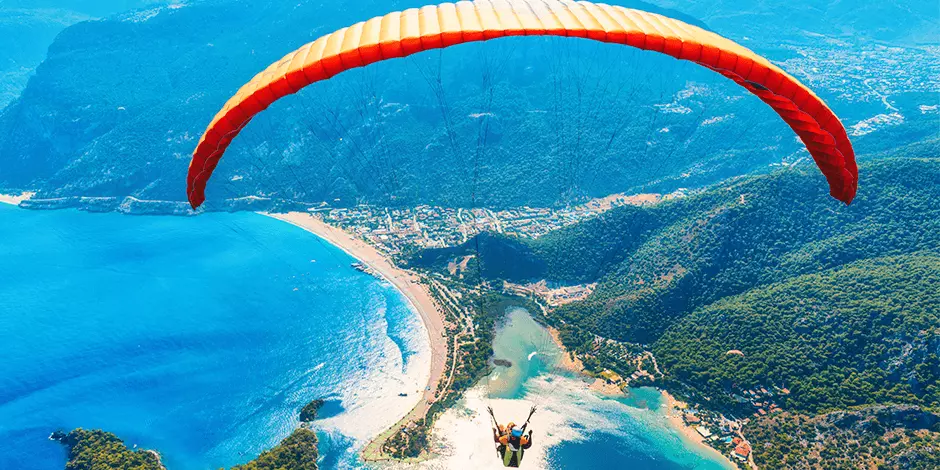 Want a great experience over the clouds? If the answer is yes, you are at the correct address. You can experience one of the most beautiful moments of your life with Oludeniz paragliding. You can immediately take action to a paraglider in Oludeniz and discover the natural beauties of the region. Now let's examine all the details about Oludeniz together.


About Oludeniz
Oludeniz is a paradise-like resort in the Fethiye district of Muğla, located in the Aegean region. Oludeniz, where different and beautiful shades of blue coexist, admires everyone who sees it with its white and unique beach, immaculate air with oxygen, and historical ruins that are almost hidden in nature. In this direction,
Oludeniz
is one of the most beautiful resorts not only in our country but also in the world. It is possible to express that the beauty of
Oludeniz
was registered in 2006 and was chosen as the most beautiful beach in the world with 82% of the vote.
Attractions In Oludeniz
Every year, there are many places to visit and many activities to be done in and around Oludeniz, where both domestic and foreign tourists flock. With its untouched beautiful bays, unique forests where almost every shade of green can be seen, immaculate air, and structure suitable for adrenaline-filled sports, Oludeniz is almost the state of paradise reflected on the Earth. If you want to explore every mix of Oludeniz, you should devote at least 3 days to Fethiye. After a holiday in Oludeniz, you will feel free from stress. Oludeniz, which is shown as one of the most beautiful beaches not only in Turkey but also in the world, admires all visitors in Oludeniz, where the smell of pine and iodine is mixed and you can breathe the smell of the sea. Ölüdeniz Nature Park, which has been protected since 1978, maybe the first stop during your trip. To enjoy swimming among the lush trees, you can enjoy the sea in Belcekiz, located in the National Park. Remember that you should also visit the Valley of butterflies, which has a great reputation around the world. By visiting the valley of butterflies for a day, you can witness the sunrise, sunset, and experience a magnificent experience. Kabak Bay, Gemile Island are also among the magnificent places to explore in Oludeniz. Besides, you can cool off in the icy waters of Saklikent Canyon and enjoy paragliding in Babadag and watch this magnificent view of Oludeniz from a height of 2000 meters. If you want to visit all these natural wonders as well as historical areas, you can stop by Patara's ancient city and choose Hisaronu to spend fun minutes in the nightlife.


How To Get To Oludeniz?
Oludeniz which is connected to the Fethiye district of Muğla, is located in the Aegean region as mentioned earlier. Located about 12 km from Fethiye, Seydikemer is located to the east of
Oludeniz
, Dalaman is located to the North and the Mediterranean Sea is located to the south. It is possible to reach
Oludeniz
, located on the Teke Peninsula, by a winding road from Fethiye. At the end of the road, Belcekiz Bay and Oludeniz meet you at the end of your journey. Muğla Oludeniz is 130 km and Istanbul and Oludeniz are 810 km. It is possible to provide transportation to Ölüdeniz by bus and plane from almost all over Turkey. Besides, international flights to Dalaman Airport are also available. People coming from abroad can reach Ölüdeniz by choosing Dalaman Airport.
When Do You Get To Oludeniz?
The Mediterranean climate influences
Oludeniz
. In summer, it is recommended to go to Oludeniz, which has a warm and rainy climate in the hot and dry winter months, especially in summer. You can be sure that you will not be cold when you go to Oludeniz in winter and spring, which has an average annual temperature of 17.3 degrees. We can recommend that individuals who do not want the weather to be too hot visit Oludeniz in the spring and autumn months. Oludeniz Rent A Car If you want to see and enjoy the beauties of Oludeniz and Fethiye closely, you can use Oludeniz rent a car service. Take action and contact us immediately to get detailed information about
Oludeniz
to rent car services offered by our company and to make the most of the services.
A Great Experience Over The Clouds: Paragliding In Oludeniz