Cappadocia Car Rental
All details about Cappadocia, that attracts attention with its magical atmosphere, and renting a car are in this article.

A passenger car or an SUV for terrain? Which fuel type? Automatic shift or manual? All the details are here. All details about renting a car in Cappadocia are here.
Everything About Renting a Car in Cappadocia
The easiest way to arrive in Cappadocia, which we can call an open-air museum, is a road of 45 kilometers after landing on Nevşehir Airport.

Since it has a geography reaching to Aksaray, Niğde, Kırşehir and Kayseri as well as Nevşehir, it would be the most logical option to visit this special place with a vehicle. It is not possible to reach by public transport at present. For this reason, you will complete the Cappadocia trip free and comfortably with the most suitable vehicle for you.

The most sensible option to come to Cappadocia is the plane. If you are looking for an option other than Nevşehir Cappadocia Airport, you can also reach Cappadocia after 80 kilometers with a car you can rent from Kayseri Erkilet Airport.

You got off the plane. It is a great comfort to know that a vehicle is waiting for you to travel in this wonderful city that you know very well or you will discover. So what kind of car will you rent? In order to spend our entire trip without any problems, you need a cheap, new, equipped vehicle and a rent a car company that serves immediately whenever you have questions. Start your journey with no question marks in your mind by renting a car from our office in Nevsehir Cappadocia Airport.

First of all, we recommend that you make your car rental reservation for Cappadocia, which hosts many travelers in the spring, at least 1 week in advance. This precaution will prevent the stress. Once you get off the place, your only concern will be the arrival time to your destination.

We especially recommend that the vehicle you rent is an SUV-type off-road vehicle in this geography. Because it is important that you do not have a problem related to road or parking while traveling on rugged terrain land and the valleys.

Information you should keep in mind: Nevşehir Cappadocia Airport is 45 kilometers from Göreme, 43 kilometers from Avanos and 50 kilometers from Ürgüp. We are at your service as Oscar Rent A Car to rent the cheapest but highest equipped vehicle among the options.
Where to go in Cappadocia?
Due to it Cappadocia being on a very wide surface and having many activities to experience and natural beauties to discover, we recommend that you plan plenty of time to visit it. The fairy chimneys, that appeared in our minds when Cappadocia is mentioned, were formed by the eroding of the ash and soft layer of the volcanic land created by Erciyes Mountain, Güllü Mountain and Hasan Mountain with millions of years of wind and rain water.

Some of the many activities you will do are walking among the valley, seeing Zelve Open Air Museum, making a balloon tour, which is a remarkable experience, viewing the scenery at Aşıklar Hill, to visit Göreme Open Air Museum, to attend a pottery workshop in Avanos, to see the Three Beauties that have become the symbol of Cappadocia, to explore the underground cities. Cappadocia is a very popular place not only in our country but also in the world in terms of experience with its unique nature and fascinating atmosphere.


What to Eat in Cappadocia?
In the middle of a wonderful experience, you got hungry. You are think what to eat unique for the region. The best answer to the question of what to eat in Cappadocia is undoubtedly the testi kebab. Yaprak sarma is also a very nice flavor. For dessert, there is köftür (grape delight) which is also called as the local Anatolian jellybeans, and dried cream.
Car Rental FAQ in Cappadocia
What type of car is rented in Cappadocia?
Renting a middle class hatchback car in Cappadocia provides you with optimum comfort.
What are the average car rental prices in Cappadocia?
The average price of renting a car in Cappadocia 190 TL
How far is it from Nevsehir Cappadocia Airport to Göreme?
It is 40 kilometers from Nevsehir Cappadocia Airport to Göreme.
Which types of vehicles are ideal for Cappadocia travel?
You rent an SUV-type land vehicle it is ideal due to the rugged terrain.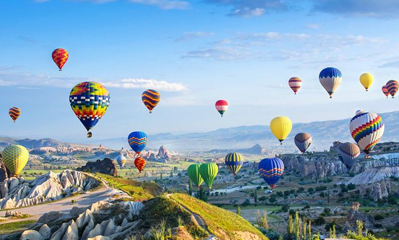 Nevşehir Cappadocia