All the details about Denizli that has a special texture with Pamukkale travertines and about renting a car in Denizli are in this article.

A passenger car or an SUV for terrain? Which fuel type? Automatic shift or manual? All the details are here.


Everything About Renting a Car in Denizli
Denizli is one of the cities where you can rent a car after arriving by plane. You can catch up with your vehicle waiting for you when you get off the plane or discover the beauties of Denizli by renting a car in Çardak Airport, which is located approximately 45 minutes from the center.

Denizli, an industrial and commercial city located southeast of the Aegean Region, located in hosts many visitors throughout the year. You can reach the desired point in time with the car you will rent.

You need a cheap, new, equipped vehicle and a rent a car company that serves immediately whenever you have questions. Start your journey with no question marks in your mind by renting a car from our office in Çardak Airport.

Renting a car, contains more comprehensive questions than which type of vehicle and what type of gear you will drive. Let's assume you will rent a vehicle that has an automatic gear. So how many people are with you? If you are crowded and have lots of luggage, the space in the vehicle you rent will also be a determining factor. Supposing that you have also determined vehicles that suits your luggage volume and the number of people. Are you going to your destination with a passenger car, a convertible that doubles comfort and enjoyment or an SUV type vehicle? We are here for all your questions about the most equipped vehicles at the cheapest price.

Information you should keep in mind: It is 40 kilometers from Çardak Airport to Denizli center, 75 kilometers from Pamukkale travertines, 240 kilometers from İzmir and 220 kilometers from Antalya.

We are at your service as Oscar Rent A Car to rent the cheapest but highest equipped vehicles among the options.


Where to go in Denizli?
Pamukkale travertines, which is on the UNESCO World Heritage List, is a place you should definitely add to your list when you arrive in Denizli. The travertines, which are about 20 kilometers from the center, is remarkable with its white appearance.

Do not complete your visit to Denizli without seeing Hierapolis, the ancient city of Leodikya, 12 kilometers from Pamukkale. Afrosidias, which has a crucial place among ancient cities, is also remarkable. You can get to Geyre district of the ancient city of Karacasu district of Aydın, which is also on the Unesco World Heritage List, in one hour only by the car you will rent in Denizli.


What to Eat in Denizli?
Tandoori, lamb head, Tavas pita, meatballs, Kokorec consisting of meat and spices only… As you can see in Denizli, dishes predominantly contain meat. Especially the meat made with tandoori will color your pleasant breaks in Denizli.

If you are in search of a dessert after eating your meal, we can recommend ice-cream semolina halva.
FAQ about Car Rental in Denizli
What type of car is rented in Denizli?
The most preferred vehicle type in Denizli is the middle segment vehicles.
What are the average car rental prices in Denizli?
Car rental prices in Denizli are on average 150 TL.
How long does it take to the city center from Çardak Airport?
You can reach the city center in about 35 minutes from Çardak Airport.
Which types of vehicles are ideal for Denizli travel?
A or B segment hatchback vehicle is ideal for your trip to Denizli.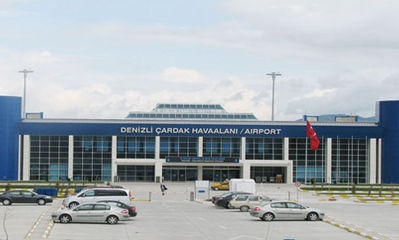 Denizli Merkez