Car Rental in Kusadasi
Here are all the details about renting a car in Kuşadası, which attracts attention with its clear sea and natural beauties on the Aegean coast.

A passenger car or an SUV for terrain? Which fuel type? Automatic shift or manual? All the details are here. Renting a car in Kuşadası is here with all the details.
Everything About Renting a Car in Kuşadası
After getting off the plane at Izmir Adnan Menderes Airport you can arrive in Kuşadası, within 1 hour by the car you rent.

Kuşadası, which is a district of Aydın province, is one of the most popular and easily accessible beach resorts of our country. The district attracts attention as a coastal city that thousands of local and foreign tourists visit every year.

All you need is a comfortable vehicle to visit Kusadasi and its surrounding places. You need a cheap, new, equipped vehicle and a rent a car company that serves immediately whenever you have questions. You can rent a suitable vehicle from our Adnan Menderes Airport branch at least 1 week in advance especially in summer. Start your journey with no question marks in your mind by renting a car from Oscar Rent A Car.

Important transportation information about Kuşadası: Kuşadası is 17 kilometers from Ephesus Ancient City, 18 kilometers from Selçuk, 70 kilometers from Aydın city center, 75 kilometers from Seferihisar and about 150 kilometers from Çeşme. With the car you rent, discover all the beauties not only in Kusadasi but around it.
Where to go in Kuşadası?
We have compiled for you the activities in Kuşadası, which attracts thousands of visitors every year for holiday with its clear blue sea, natural and historical beauties and friendly locals.

Kaleici is located in the center of Kusadasi. It is possible to take a break in Kaleiçi and relax or have dinners in the evening. When you go 50 kilometers from the center to the south, you will arrive at Kuşadası National Park in Dilek Peninsula where untouched nature meets the sea. In 4 different bays, you can swim in sea near the green pine forests where nature shows itself. For a different sea experience, you can visit the beach of Zeus Cave.

It is not possible to go to Kuşadası and not to visit Şirince. This village of Selçuk is frequently visited by local and foreign tourists every year. You will realize once again that renting a car is the right decision because the road to Şirince is winding.

Speaking of Selçuk, you should definitely visit Ephesus Ancient City. The ancient city, which is on the Unesco World Heritage List, is located in 21 kilometers north of Kuşadası.

When you arrive in Kuşadası, Güvercinada, which is identified with the city, is a pleasant place to enjoy the view.


What to Eat in Kusadasi?
In Kuşadası where Mediterranean cuisine is predominant, meat dishes also have importance.

The appetizers with fish such as sea bream, red mullet and sea bass, meets Aegean herbs. In Kuşadası, you will experience and discover delicious dishes You will be separated from the pearl of the Aegean from Kuşadası with light, delicious and new discoveries.

If you like meat, do not forget to taste the stew dish. Lamb tandır and roasting on sac are among the other options.


Car Rental FAQ in Kuşadası
What are the places to go by car from Kuşadası?
Güvercinada, Davutlar Beach, Dilek Half Island are the main sightseeing stops for the trip to Kuşadası.
What are the average car rental prices in Kuşadası?
The average price of renting a car in Kusadasi 220 TL.
How far is it from Adnan Menderes Airport Kuşadası Center?
Adnan Menderes Airport is 60 kilometers from Kuşadası.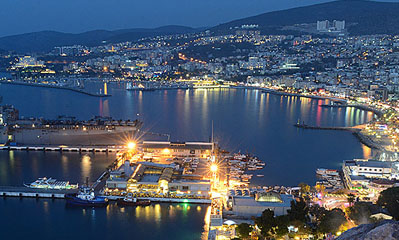 Aydın Kuşadası